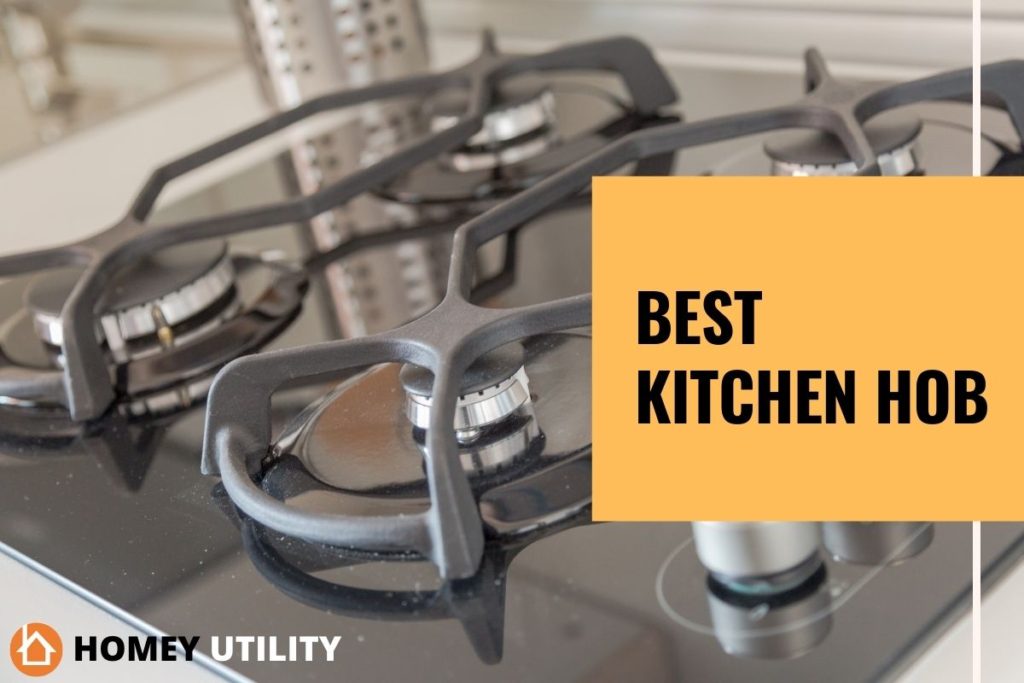 Kitchen hobs are more popular in the western world. It definitely changes the design of your kitchen.
Now, you can get access to a kitchen hob in India also.
Here are the top picks.
Now, you would like to see a comparison between the best hobs right.
In the table below, you can compare the design, price, warranty and the dimesons.
Now, let us compare among the top 10 kitchen hobs so that you can have more ideas.
Have you made up your mind about what you want?
The dimensions are really critical. Because you would need to cut out space on your kitchen slab. So double-check the dimensions before you commit.
If you are still searching, then we will look into the obs one by one. But before that let us see the advantages and disadvantages of using the kitchen hob.
Kitchens, particularly in India, are extremely important and are handled as such by practically every householder.
To achieve the most benefits and usefulness, an ideal kitchen should be spacious, functional, and well-designed.
The place where you prepare food for your family is one of the most significant aspects of the kitchen. In India, there are two common ways to prepare food.
One is the standard gas stoves, and the other is the Kitchen hobs, which are relatively compact, easy to operate and maintain, and provide greater value for money, as well as adding a touch of modern mood when you enter the kitchen.
When it comes to organizing the layout of your kitchen, the objects you choose and where they go may make all the difference.
Every housewife is looking for ways to reduce her workload and stress in the kitchen, and modern kitchen gear has a lot to offer.
Designed appliances are progressively replacing free-standing appliances in modern kitchens, and the good old cooking range or oven is no exception. Freestanding Stoves have reached their limit and designed Hobs are rapidly taking their place.
However, before you choose one over the other, consider the advantages and disadvantages of kitchen hobs.
Advantages of using Kitchen Hob
Ensures Cooking time is reduced.
Cooking on a built-in induction hob is faster because the heater generates an electromagnetic field that swiftly transfers heat to induction-compatible cookware. Another benefit is that the food is less likely to be overcooked because the hob has a temperature control mechanism that allows for controlled cooking at a specific temperature.
Carbon footprint is minimal.
Auto Ignition cooking consumes less energy and power than gas or electric cooking since it is faster. Another advantage of the induction cooktop is that it only heats the pots, not the entire cooktop.
Working with an induction hob poses a low risk of burns because only the cookware is heated and the hot element within the induction hob is not exposed. The glass surface does not become heated and is safe to touch because the hob does not have an open flame.
Food does not stay in the induction hob, making it easier to clean. Wipe the hob down with a moist cloth dipped in water or a mild detergent solution on a regular basis.
Disadvantages of buying Kitchen Hob
It is far more expensive than a traditional gas or electric stove. Because the hob is constructed of glass, it is vulnerable to scratches created by heavy pans.
Separate cookware is required.
To transfer heat from the induction cooktop to the cookware, you'll need induction-compatible kitchenware with a magnetic bottom made of materials like stainless steel or carbon steel.
It makes a humming noise.
The transfer of heat from the built-in induction hob to the pots makes a humming noise during food preparation, which may be irritating to someone.
It is powered by electricity.
Because the built-in cooktop requires electricity to operate, the biggest disadvantage is that you won't be able to cook if the power goes out.
If you're not sure which brand to use or which is the best kitchen hob for a long-lasting result, this article will guide you to the greatest options for making your cooking seem smarter and giving you a wonderful experience.
Now we'll look at their descriptions and advantages and disadvantages so you can pick the best brand and product for your kitchen and easy cooking.
Elica is a well-known brand in the kitchen appliance sector, particularly in cooktops.
When it comes to gas cooktops, the Elica 3-burner cooktop hob is an excellent choice in every way. This is a fantastic addition to your kitchen and will give it a completely modern look, thanks to the brilliantly spaced brass burners, dependable knobs, and smartly thought-out dimensions.
Aside from the design and appearance, there are a few other features that make the Elica gas hob a great bargain under 15,000. With features like auto-ignition, strong pan support, and beautifully constructed burners, this device is well worth the money.
If you're seeking a dependable and easy-to-maintain gas burner for your kitchen, this beautifully designed kitchen hob should be on your list. Believe us when we say that you will enjoy the hob's performance.
Aside from practicality, appearance, and brand reliability, there are a few more things you should know about the Elica Gas hob as a consumer. So, read the following list of points to learn more about these issues.
Pros:
It's quite simple to use and maintain.
Brand value that may be trusted
Excellent performance
Brass burners of superior quality for increased efficiency
Cons:
Larger and more powerful vessels may be difficult for the hob to handle.
Best Gas Stoves with Different Number of Burners
Prestige is a well-known brand in the country's culinary business, and it has a number of fantastic products in its arsenal that are selling well.
Unlike most other brands on the market, when you buy this hob top from Prestige, you won't have to worry about performance, build quality, or efficiency, and this is simply due to the fantastic brand name linked with it.
The Prestige hob top 3-burner self-ignition gas hob will be a great product to go with for buyers who are looking for the best-in-class product from a reputable brand.
Prestige Hobtop will be a perfect deal for your kitchen if you are looking for an ideal gas hob for your kitchen that looks amazing and has a reliable selection of characteristics to improve the visual usability and performance of the hob.
You will not regret your decision to invest your hard-earned cash in this beautifully designed hob if you give it a try.
The Prestige 3-burner hob top offers various other qualities that make it a worthy device to go with, in addition to many other typical features like auto-ignition and a very sturdy body. The location of the burners is the first thing you'll notice about the Prestige Hobtop.
Unlike other hob tops on the market, the burners are arranged in a straight line, making them easier to use and allowing you to quickly locate the items being made.
Pros:
Exceptional brand value
Clean and simple to use
For longer life and better appearance, use a very resistant glass surface.
Support for cast iron pans for better balance and handling
Cons:
The hob's usefulness is limited by the glass top.
Do you use a pressure cooker?
Then you can check out our top pressure Cookers by clicking the links below
The Sunflame CT hob3-burner gas stove would be an excellent choice for consumers looking for a dependable and easy-to-maintain gas stove with all of the sophisticated features, a sturdy construction, and a well-known brand name.
Apart from the features, the beautifully crafted body, and well-considered dimensions, this hob top is an excellent choice for buyers looking for a modern hob for their kitchen that is not only easier to use but also enhances the look and feel of the space.
This three-burner countertop hob from SUnflame is a popular product among consumers, especially those who are searching for a modern and sleek gas hob that would blend in with their kitchen interiors.
The hob's endurance, in addition to its design, makes it an excellent choice for practically any homeowner.
After cooking, the stainless steel drip trays ensure that the tabletop is clean and free of mess. Simply clean the hob top according to the manufacturer's instructions, and it will last a lifetime.
When it comes to services, Sunflame is regarded for having the greatest customer service in the kitchen appliance market. Simply phone their customer service hotline, and they will promptly respond with the ideal solution to your problem.
Overall, if you're searching for a hob top that's simple to operate, has a beautiful aesthetic, and is well-designed, you should take a look at this brilliant Sunflame hob top. Believe us when we say that the performance and service of the hob top will not disappoint you.
Pros:
The process is simple.
Reputable brand and after-sales support
Support for the pan is coated with Euro for added durability.
Cons:
The heating process takes longer.
Hindware is another fantastic brand when it comes to product efficiency and general quality.
The Hindware Kitchen Ensemble Elisa 3B is one of the easiest to use and maintain hob tops on the market right now, thanks to its stunning appearance and dependable knobs.
This Hindware hob top is loaded with beneficial features like a hardened cooktop, well-placed burners, and great pan support, in addition to its design and efficiency.
Overall, the Hindware Kitchen Ensemble Elisa 3B would be the finest choice for you if quality and efficiency are your top priorities.
Along with the amazing usability feature mentioned above, the Elisa 3B includes a slew of other functions that can be discovered when you buy it.
The hob's exclusive ZAMAC knobs provide excellent precision for flame control, and the Brass burners use the fuel as effectively as possible.
The Hindware Kitchen Ensemble Elisa 3B's enamel-coated drip trays, toughened glass cooktop, and other features are among the most talked about.
The following are some of the things to keep in mind before purchasing the Hindware hob top.
Pros:
Toughened glass, auto ignition
Modern Indian cuisine with an efficient design
For better flame control, dependable knobs are required.
A one-year warranty is included.
Cons:
Smaller kitchens may not be able to accommodate the dimensions.
Regardless of the tool or household appliance you want to purchase, Bosch is always a brand you can trust.
Bosch products are always top-notch in terms of quality, dependability, and longevity.
When it comes to kitchen hobs, the Bosch Gas hob for your kitchen is no exception.
The Bosh Hob is for those consumers who want the greatest kitchen hob with exceptional usability and brand value, as well as a great square design and high-quality fixtures.
Aside from the high brand value, there is a slew of other benefits to purchasing the Bosch Gas hob for your home.
Perfect design, quick installation, and efficient performance are just a few of the best attributes that make the Bosch Hob a great investment for practically any modern Indian kitchen.
Overall, if you're searching for an ideal gas hob that works efficiently, takes less maintenance than most other brands on the market, and has excellent build quality, the Bosch Gas hob is a great option to consider.
Try it out for yourself, and you will not be disappointed with your decision to invest in it.
Below are some of the things we liked about the Bosch stovetop, as well as a few things we didn't. Go over them and determine whether you want to go with this Bosch hob top or hunt for other options for your home.
Pros:
Exceptional brand value
High-quality, long-lasting construction, and efficiency
Cleaning and upkeep are simple.
Cons:
Has a thicker cooktop, which isn't for everyone's choice.
The Ibell 3 burner gas hob top will be a fantastic product to go with for purchasers who are seeking an economical and easy to maintain gas hob top that looks classy and has all the features that are required for Indian home cooking.
The Ibell 3 brass burner gas hob has a beautiful design, excellent performance, and is an excellent buy for Indian households, making it ideal for any buyer searching for a hob top.
Along with the beautiful appearance, the brand has made a few smart modifications to make it a worthwhile purchase for users.
The high-end tempered glass top, high-quality brass burners, and a superb auto-ignition feature that works rather well every time are just a few of the improvements.
So, if you're searching for a nice kitchen hob that's not only reasonably priced but also comes with a terrific set of features, the Ibell 3 brass burner hob top will be an excellent choice.
Despite being from a newer company, the hob top performs quite well for the price and is an excellent addition to any modern kitchen due to its stunning appearance and compact yet well-planned size.
The specially built pan support is effective for Indian utensils, and you can simply set even the heaviest utensils in your kitchen to cook meals correctly without placing additional strain on the hob top.
Pros:
Excellent design quality
Burners that are evenly spaced and use fuel efficiently
Cleaning and care are simple.
Cons:
You don't cook it in a tandoori pan.
The Glen hob top would be a perfect product for consumers who live in a joint family or have a lot of cooking needs.
It is a great value for consumers searching for a precisely built modern hob top that performs well and looks amazing in the kitchen, thanks to its brilliant design and dual-tone body.
The Glen GL 174 is one of the best and most reliable 4-burner gas hobs currently available on the market, thanks to several clever changes including efficient space management and consistent performance.
Pros:
It's quite simple to use.
Efficient fuel use
Brand value that can be trusted
A thick glass stop allows for easier maintenance and cleaning.
Cons:
The knobs seem to be of very poor quality.
Despite the fact that the hob top has four burners, it is still one of the best options for tiny kitchens.
The key benefit of this Prestige Glass Top Gas Stove is that it is small in size and has been deliberately built to take up minimal counter space.
It has a shatterproof toughened glass top that will last a long time and is easy to clean. It possesses high-efficiency tri-pin burners that empower you to cook faster and efficiently.
It's a product that combines performance, efficiency, beautiful appearance, and excellent value for money.
It not only has a more attractive and fashionable appearance than a standard gas stove, but it also performs better in terms of functionality.
The spectacular design is not only gorgeous, but it is also simple to clean and maintain, and it complements the kitchen décor.
The ignition mechanism guarantees that the kitchen hob runs smoothly by offering precise flame control and safe operation. Using the knob is comfortable on the fingers acknowledgments to the ergonomic knob design.
Pros:
The design is thin and compact.
Support for a cast iron pan.
Auto-ignition.
Design of Ergonomic Knob
Cons:
Prestige's after-sales support is terrible.
Seavy believes in gaining confidence by assuring quality and offering great kitchen equipment.
When it's time to give your kitchen a facelift, choose from a variety of gorgeous cooktops and kitchen chimneys.
Seavy understands how vital it is for a kitchen to appear nice and be enjoyable to people who work in it.
The square-shaped pan support is a one-of-a-kind design that makes it simple to operate. It keeps the cookware from sliding off or wobbling throughout the cooking process.
It may be used as a stand-alone cooktop or as an in-built hob to complement your kitchen's decor. This beautiful but modern hob may be used in either direction, depending on your kitchen's decor.
Pros:
The feature of auto-ignition.
Pan Support with a Unique Design.
It may be used as a stand-alone or built-in hob.
It's simple to clean.
Cons:
Stains and blemishes are likely to appear on the glass top.
When it comes to cookware, Glen is an industry leader. This four-burner dual-purpose kitchen stove is entirely composed of glass, making it one of India's top kitchen hobs.
This hob comes with 4 different sized burners, all constructed of aluminium and using auto-ignition technology, and offers the ideal combination of build quality, clean design, and convenience of use.
One primary triple ring burner, one auxiliary burner, and two semi-rapid burners are included.
Because most gas hobs with low-quality glass are broken when exposed to high temperatures, the toughened glass top eliminates any heat damage. Aside from that, the Italian valves on this stove provide a low flame and no sim-off.
Pros:
4 Aluminium Burners.
Auto-Ignition Technology.
Flame and scratch-resistant glass.
Italian valves for the blue flame.
Cons:
There is no guarantee on glass.
Do you want to check out the best Gas Stove?
Then click the buttons below:
Do you want to check out the best Gas Stove?
Then click the buttons below:
Best Gas Stoves
Different Number of Burners
Gas Stove Types
Tips for Keeping Your Kitchen Hob Clean
Kitchen gas hobs, like any other equipment, benefit from routine maintenance to ensure that they run smoothly. Cleaning your kitchen hobs properly will maintain them clean and elegant by preventing spills from becoming persistent.
The best approach to keep your kitchen hob spick and span is to maintain it on a daily basis. The longer you wait to clean the stove, the more filth accumulates.
We've compiled a list of helpful hints for keeping your kitchen stove looking and performing like new:
1. Keep your kitchen hob clean when you're travelling.
When you're on vacation, there's only one thing you should do. Before you travel on vacation, clean your kitchen hob tp.
To clean the spillage, use a kitchen surface cleaner and a soft microfibre cloth. Rough wools might damage the glossy finish of your kitchen hob, so avoid them.
2. Clean pan supports on a regular basis.
Cleaning the pan support regularly is strongly advised. The best approach to clean pan supports is to soak them in warm soapy water for a few minutes, then rinse and dry them carefully.
Remove any dirt or grime that has accumulated on the pan supports with a soft brush. When the pan supports have cooled down, wash them.
The best thing about our kitchen hobs is that they have a special coating that protects them from corrosion and makes them easy to clean and long-lasting.
3. Make sure the burners are clean.
Food particles often become stuck in the burners of the hob. Our burners are constructed in such a way that they can be cleaned quickly and easily.
Clean the burners with warm soapy water after they've been removed. Use a cleaning product and a gentle toothbrush to soften the food residue if it's too unclean.
Before reassembling the parts, make sure they're completely dry.
4. Make use of the necessary tools.
Use a soft brush or a scraper designed for glass tempered hobs to clean them. Apply cleaning lotion to stubborn stains and let them sit for a few minutes before cleaning. Make sure you choose a cleaner that isn't harsh.
After the stains have been removed, wash the surface down with a moist towel to eliminate any remaining filth. After that, dry the area with a microfiber fabric.
Conclusion
After reading 7 Best Kitchen Hobs – Reviews & Buyer's Guide, you should have a better understanding of what to look for when purchasing a kitchen hob.
It is crucial to know what suits you and what does not when it comes to equipment as important as a kitchen burner. After all, it's all about your personal preferences and tastes.
Investing some effort in determining which kitchen hob to purchase will save you a lot of time and money. It will save you precious time.
As a result, it would be prudent for you to devote some time to determine which gas stove is the best.
When you examine the above-mentioned parameters, such as the number of burners, the kind of ignition, the size of the gas stove, and so on. You will have an easier time deciding on the greatest gas stove for you.
So As I noted previously, kitchen hobs are gaining a lot of popularity among customers. As a result of the rise in popularity and demand, many manufacturers have created new and improved gas hobs for consumers.
If you've decided to buy one for your kitchen as well, the variety of brands and models of gas hobs on the market can be overwhelming.
Again, here are the top picks.