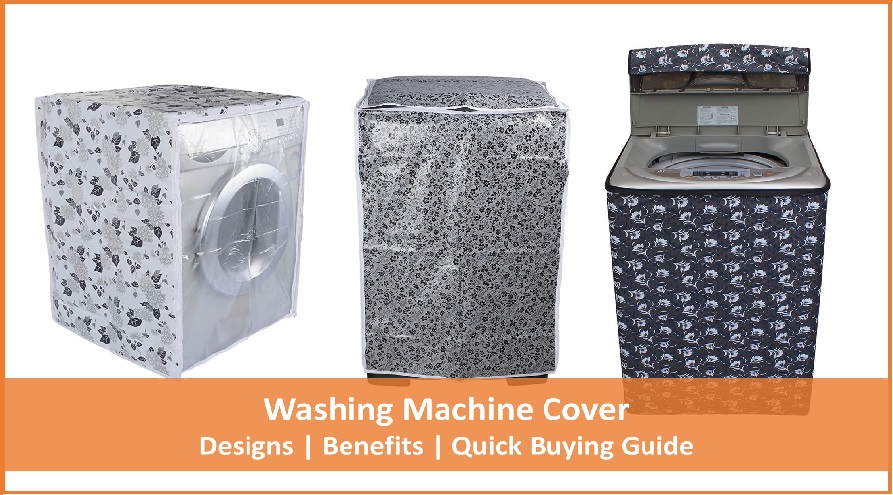 A washing machine is one of the most useful and expensive purchases that you will make for your home. After purchasing it, a cover might look a bit of an overkill. But the washing machine cover is one of the most important accessories.
Let us see if you need it or not?
A washing machine cover protects the washing machine from dust, mild dew, and mold. It helps you maintain a shiny color. The cover will increase the longivity of the machine. So, You need a washing machine cover.
It depends on the location you are putting your washing machine. You can put the machine in balconey, kitchen, bathroom or other rooms. But no matter which location, it is better to get a cover.
Now, first let us see some interesting facts about the cover.
What is a washing machine cover?
Washing machine covers protect your washing machine from dust, dirt, and water. Thus increasing the life span of your washing machine. It also enhances the looks of your washing machine.
Design of the cover
The covers are designed to protect your washing machine. They are also manufactured keeping the user experience in mind and also how easily you can use them.
The design includes
Holes.
Seams and Design.
Zip.
Print and Design.
Holes
In most of the washing machines, the inlet pipes the outlet pipes and drainage are on the back side.
That is why most of the covers will have holes by design in the backside.
This allows easy access to connection wire, the inlet pipe and the outlet pipe.
This is a must have. So, check it before you buy.
Seams and Design
The covers are stitched. So they will have small pores on the sides. No matter what material, they use. The pores will be there. The seams will only give protection in those cases.
I also think it somewhat enhances the look. 🙂
So make sure you buy a cover with a seam.
Zip
Almost all the covers come with zipping. The location will depend on what type of machine you have.
If you use a semi-automatic machine, zip will be on the top. A top loader will also have a zip on the top. A front loader will have a zip on the front sides.
These give you easy access to the washing machine when you want to use it.
Just unzip the cover, do the washing and zip it.
Print and Solid Color
Washing Machine covers are available in different printed designs. You can also choose one cover on a single color only.
I have the single color or solid color one from Dream Care. I have the grey colored one. It is good. I keep my top loader on my balcony. My area also has lots of dust. That is why I bought a grey one.
You to click to check The Dream Care products on amazon.
Other than this covers from Classic is also a good option. Click to check the designs on amazon.
It depends on what you want. You will have many options. Just get the one whose print or design you like.
Dimensions of Cover.
The dimensions differ in terms of what kind of machine you have. I will give a very basic idea of what the dimensions will look like.
| Washing Machine Type | (Length x Breadth x Height) cm |
| --- | --- |
| Semi-Automated | 77 x 53 x 80 cms |
| Toploading Fully Automated | 61 x 61 x 96 cms |
| Front Loading Fully Automated | 50 x 61 x 86 cms |
The dimensions will vary according to different scenarios.
Type of machine.
Brand.
The capacity of the machine. (Tonnage)
So, before buying just go through it once.
Materials used in the cover.
A washing Machine cover can be made of two basic materials. Different manufacturers use different materials. The main materials are listed below.
Polyester only.
Polyester and cotton blend.
Polyester Only
Majority of the covers in market are made with polyester material. This helps you to give the waterproof and dustproof benefits. It is smooth to touch. The material makes it washable. So in case, your cover is dirty you can easily wash it.
The only negative side is that polyester materials do not absorb moisture. It is true for all kinds of polyester materials.
Now for those people who live in humid areas. Or those who keep their washing machine in humid areas. Polyester materials can create some problems. The moisture which develops after every use of the washing machine needs to be dried out. If these get accumulated Fungus like molds will appear. In the long term, rusts will also appear on the machine.
Both these have the potential to destroy the surface of the washing machine. Sometimes, if things go worse, it can damage the wiring of the machine also.
In order to get rid of these, make a routine, to clean the cover weekly or monthly.
| | |
| --- | --- |
| PRO'S | CON'S |
| Washable | Do not Absorb Moisture |
| Water Proof | |
| Dirt Proof | |
Solution
Make a routine to open the cover and let your washing machine be in contact with the adjacent environment. Do this on a monthly basis. Also, wash the cover twice a year.
Polyester and Cotton Blend
Some companies manufacture covers with a blend of polyester and cotton. These will give you protection from dirt and dust. This will absorb moisture.
The downside is, it is not completely waterproof. So it will absorb water.
| | |
| --- | --- |
| PRO'S | CON'S |
| Washable | Not Completely Waterproof |
| Dirt and Dust Proof | |
| Absorbs Moisture | |
Solution
Remove and wash the cover on a weekly or monthly basis.
Which one to get?
You can get any one of them. It really depends on where you have placed the machine. Let me classify it into Outdoor and indoor. Just for simplicity.
Outdoor
When I say outdoor, I strictly mean either on the balcony or roof. I don't mean out of your house in this particular case. I just did not get the right word to use. I hope you will excuse me for this. 🙂
It is always better to keep it under a shade, even on the balcony or roof.
For these situations use a Polyester/plastic / PVC washing machine cover.
Indoors
Better to get a Polyester and cotton blend cover for this scenario
Pricing
The washing machine covers are really cheap in comparison to the machine. In most of the cases, it is less than Rs 500.00
So now let us quickly go through the benefits of having it and more importantly demerits for not having it.
Benefits of the Washing Machine Cover.
Will protect your machine from dust and dirt.
Scratch Proof.
Increase the longevity of your machine.
Prevents your machine from water, during rains.
What if you don't have the cover?
You will not want to clean the surface of the washing machine daily. Loads of dust and dirt will settle over the machine if you don't cover it.
If accidentally, something spills on your washing machine, you will not like it. Better on the cover than the machine itself.
You definitely don't want the rain water to mess with the expensive machine you have.
Quick Buying Tips of Washing Machine Cover.
I will give you a quick step by step guide.
Step 1.
Make the cover the 1st thing to buy along with the washing machine.
Step 2
Find the location to put your machine.
Step 3
Search the cover according to the Type and Capacity (Tonnage) of the machine that you own.
Step 4
Check the dimensions and match them with your brand.
Step 5
Buy it and maintain it.
Conclusion
It is important that you get a washing machine cover. It has multiple benefits. Negatives are almost none that cannot be solved. The best part, it costs less than Rs.500. The thing is that we all want to buy the cover. But it slips out from our mind.
I hope that this article will help you to remember that, why you need to buy the cover.
Get a washing machine cover and keep your washing machine safe.